ROTARY PRINTING NICKEL SCREEN FOR TEXTILE PRINTING
ROTARY PRINTING NICKEL SCREEN FOR TEXTILE PRINTING
Our advantage:
• Top-level quality in the world, international standard, can be reused several times, save dyestuff much, minimal-nickel-residual.
• Our screen is none brittleness. In the production process, we use sulphur-free additive, then we ensure none brittleness of the screen during/after the rounding and polymerization process.
• Our high mesh screen could save the dyestuff. As the high mesh density of holes ,unique hole shape and minimized nickel dam, the coverage of dyestuff paste on the fabric has largely increased compared with conventional Penta screen.
• The resilience of the screen is very good as the without usage of saccharin. Then the softness of screen is eliminated, and the creases are depressed during the prepress and printing processes, which provides convenience/efficiency for the operators during the handling and use of screens.
Nickel rotary printing screen is a consumable part of rotary printing machinery, with invisible holes to the naked eye, which are mainly used for printing patterns on various fabric, wallpaper and so on.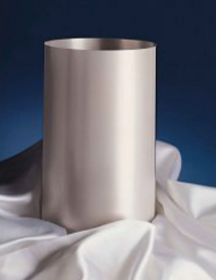 We are one of the biggest nickel rotary screen manufacturers and dealers in China, producing rotary screens for more than ten years, with the annual output 800,000PCS. With rich experience and advanced technology, we have exported screens to Bangladesh, India, Indonesia, Pakistan, Thailand, Turkey European countries etc. In 2014, the company underwent huge improvements and innovation in the technology and equipment, successfully developing and producing rotary screens with large circumferences (1206mm, 1450mm, 1680mm, 2400mm etc.).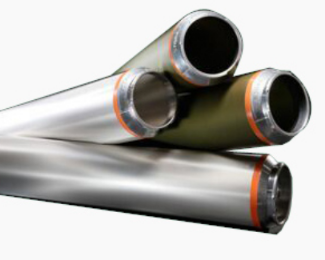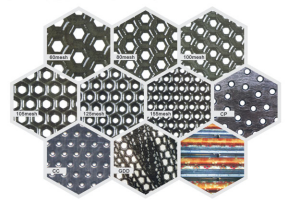 SPECIFICATIONS: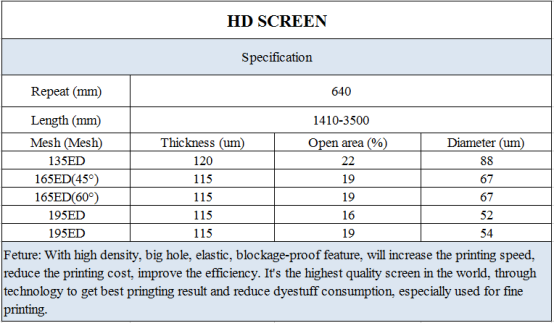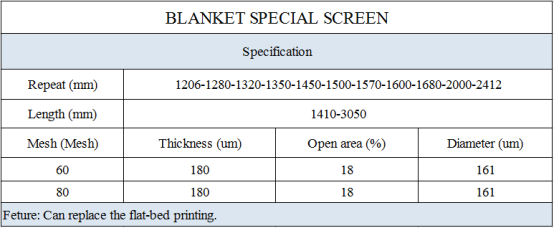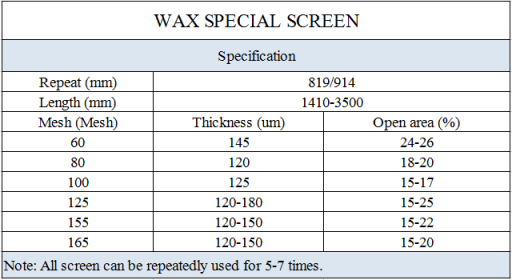 ADDITIONAL INFORMATION
For additional product information, please contact with us.